about us
Curious about who we are and what we do? Here's the story so far
we're serious about reading for fun
We've made it our mission to champion female authors and help you discover brilliant books you'd never have otherwise heard of. From literary heavyweights to breezy beach reads, we're here to help you make space on your bookshelf for women's writing across every genre.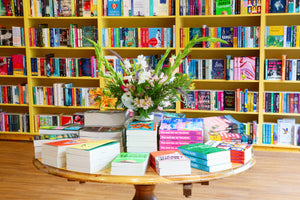 The year was 2017. Rachel spent so much time recommending books to people she joked it could be her job. It turned out that wasn't such a crazy idea - Rare Birds Book Club was born. We dreamed of a space where women's writing would be taken seriously but books were read for fun.
As it turned out, we weren't the only ones who liked the idea of reading for fun! Thanks to a brilliant community and lots of word of mouth recommendations we grew from a small group of friends into a huge community - Rare Birds Book Club now has thousands of members stretched across 23 countries. How cool is that?
our first brick and mortar store
In August 2021 we opened our brand new HQ; Rare Birds Book Shop is Scotland's only bookshop dedicated entirely to women's writing and is where all the magic happens; you can see our subscription team working in the back while our booksellers are on hand seven days a week to help you find your next great read.