How to Do Hard Things : Actual Real Life Advice on Friends, Love, Career, Wellbeing, Mindset, and More.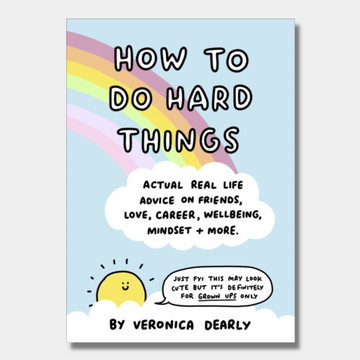 Life doesn't come with a manual but this illustrated guide to navigating its ups, downs and WTFs is the next best thing. With her trademark humour and engaging frankness, artist Veronica Dearly guides us on a visual journey into the parts of life that often leave us floundering.
Taking inspiration from the popular Wheel of Life coaching tool, How To Do Hard Things explores key areas in turn, from mental health, mindset and the dangers of overthinking, through fitness and body image, career, love, spirituality, family, money, fun and friends, to finding your direction, setting your own goals and preparing for change.

Veronica combines accessible guidance with uplifting pockets of inspiration and simple on-the-page activities throughout to encourage self-reflection, provide instant pick-me-ups and help you realise that you really can do hard things. While acknowledging that real life is never perfect, this relatable, down-to-earth book shows how it is still possible to find the positives and make it a little bit better every day.